From Challenge to Breakthrough!
With an academic history of more than 12,000 students, we have witnessed 15 years of Proven Track Records of Nanyang students Excelling from failing to Achieving "As"!
We believe that each student is unique and different, and given the right coaching and study framework, will be able to achieve remarkable result in not only their grades, but gain from the immense learning experience, under the close supervision of their mentors.
"My son has been attending the P4 class this year (2020), & his Maths & Chinese have improved. I can see that he really enjoyed his class. The teachers are very encouraging & provided lots of inputs on how to help my son. Very dedicated teachers & highly recommended!"
Francesca Tan
"I'm really glad that I enrolled my son at NY Sembawang branch. He did badly in Y2019 PSLE & ended up in S1 NT (Y2020). I am very pleased with my son's progress! With his teachers' guidance, he got promoted to S2 NA for his Maths & Science subjects! Moreover, the fees are affordable & reasonable. Once again, thank you for helping my son in his weaker subjects."
Soyoung Kim
"Thank you very much for being good teachers for my boy. As a parent, it is hard to find good teachers until I enrolled my boy in NY. Action speaks louder than words & we can see his great improvement this year. Thanks for imparting the best lessons for my boy."
Ann Yong
"NY has helped my P3 kid by clearing her doubts on Science, as this is a new subject for her. The teacher's explanation is very clear & easy to comprehend. Thank you, Nanyang!"
Liu Yan
"Nothing worth having comes easy"
Tan Hui Yan
P4 Mayflower Primary School Science, From 84 To 100 Marks
I came to Nanyang to study English, Chinese and Science. The challenges I faced in my studies were Science is Section B and I do not know how to answer the questions and I always use them in my own words.
Ever since I came here the teachers are been very helpful and they always teach me keywords to use in answering questions. They are very patient and always happy to answer my questions.
After I joined at Nanyang my studies improved and I got 100 marks for my Science. In 2018, I want to improve my studies and get 'A' for every subject.
Hi, my name is Jia lei. I am a student at Anderson Primary School. I am hardworking and my teachers in school always complimented on my good behaviour in class. I was always attentive in class and I dutifully completed all my school work every night.
My greatest challenge was English. It hovered at band 2 and refused to go any higher. Finally, my mom was frustrated. After some research and good recommendation from her friends living in Ang Mo Kio, she decided to switch me from my previous tuition classes to Nanyang Education.
At Nanyang, the teachers identified that I was weak in my essay writing skills. I did not know how to compose a good story. I did not have enough power words in my "bank". I lost a lot of marks in my test. My vocabulary … simply could not make it.
Within 2 MONTHS, my English went from BAND 2 to BAND 1!
I could not believe my eyes! I was shocked when I received my test paper.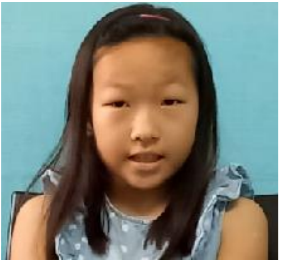 Zhao Jia Lei
P4 Anderson Primary School English, From Band2 To Band1
"Once you get to the top of the mountain, the view is beautiful!"
Peh Siow Teng
S3 Holy Innocents' High School Chinese, From B3 To A1
I am taking Chinese tuition at Nanyang tuition centre. I know Nanyang tuition centre from my friend who is studying here.
I faced challenges in Chinese in areas such as comprehension, situational writing and compo. I don't even understand what the comprehension is talking about and don't know what to write as
the answer. I don't have any idea what the topic is talking about. I am used to be bit slow I can't complete my compo in time, even if I complete my compo is not interesting.
At Nanyang, my teacher is very patient and detailed in her explanation. The skills and techniques she taught me are very useful in exams. I learnt a lot from her.
My grade improved from B3 to A1.
I was studying at Nanyang from last 6 years since Primary School. Initially I was always addicted to electronics and modern gadgets … the latest gizmos …; Easily distracted; Felt lost at times, not sure what to do. Stress … not sure how to manage my time well …
At Nanyang my teachers are so patient with me, helped me with my studies and school work and guided me in my learning path. They set time schedules for me to focus on my studies, taught me how to achieve my goal and get the result I wanted by staying away from all distractions. They shared with me valuable exam tips and strategies and taught me how to answer different types of questions. I am very thankful to all my teachers!
MY VICTORY – EVIDENTLY YES!!!
Science, from C5 to A1
A. Maths, from B4 to A1
E. Maths, from B3 to A1
My next target is to achieve A1s for all my subjects!
"Hardwork + Dedication = Success."
Ng Wei Yong
Ang Mo Kio Secondary School Science, From C5 To A1 A Maths, From B4 To A1 E Maths, From B3 To A1
"When you feel like quitting… think about why you started."
Matthias Poo Kai Jun
S4 Mayflower Secondary School Physics, From C6 To A1
I am studying Physics in Nanyang. I got to know about Nanyang tuition through recommendations from a friend.
The problem I faced in Sec 3 was that there were many students in my class. Most of the time, I was playing with my friends in the class and so I didn't really study much in Physics. Due to that, at the end of Sec 3, I got a sub pass.
I was driven to go to Nanyang for tuition because I heard that the student-teacher ratio was very small. It was true that there were only one teacher and 3 students in my class. This was excellent for me because the teacher was able to customize his teaching according to my weakness.
At Nanyang, the teachers are very patient. When I do not understand anything, they will make sure that I understand every element of the topic first before moving on to the next. My tutor always encourages me whenever I didn't do well in any exams. He regularly follows up with my exam results to ensure that I was improving in every lesson. He makes sure that we always revise even after the tuition by giving us papers to do when we were at home.
With the help of Nanyang tuition, I was able to score A1 for my O-level which was a five-grade jump from C6 compared what I got at Secondary 3!
I came to know about Nanyang through my friend's accomplishment. Some challenges I faced while studying Physics was that I do not know how to answer the questions and do not know the proper way to answer them. 
Through this tuition my teacher helped me the step by step solution which is very convenient for us to answer the questions. My teacher also teaches us the easier methods to memorize all the definitions so that we can answer them during the exams. My teacher also taught me the shortcut formulas and techniques to answer the questions.
My result improved from D7 to A2 which is a great improvement for me.
"I never dreamed about success. I worked for it."
Sharon Quek
S4 Mayflower Secondary School Physics, From D7 To A2